We have enjoyed welcoming families back into our museum during our Phase 1 reopening. We've learned a lot and most importantly – we are grateful for the overwhelming support from our community. 
We are excited to announce the next phase of our reopening, running March 1st – May 31st! Phase 2.0 will be starting June 1st. Stay tuned for more details!
General Admission  |  Private Rentals  |  Health & Safety  |  Visitor Guidelines  |  Member Benefits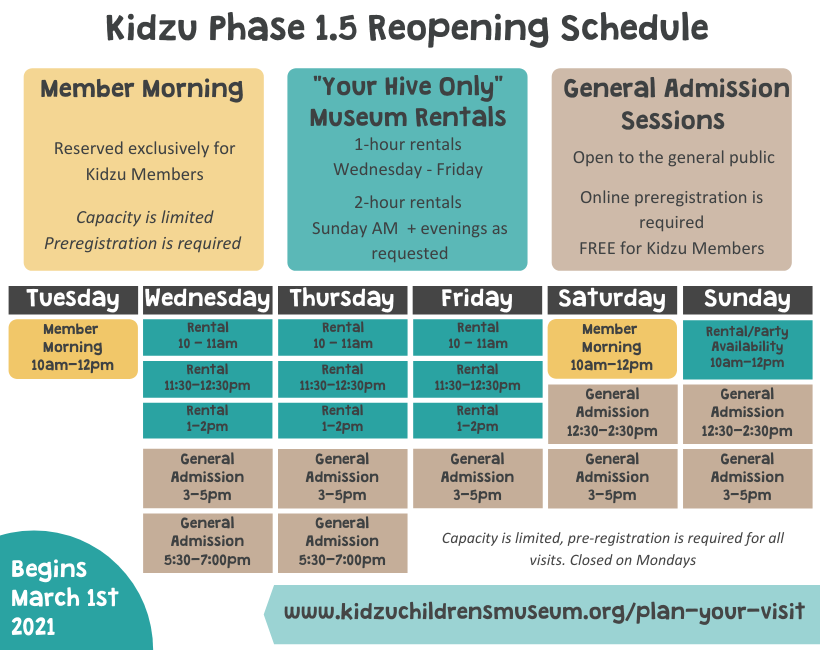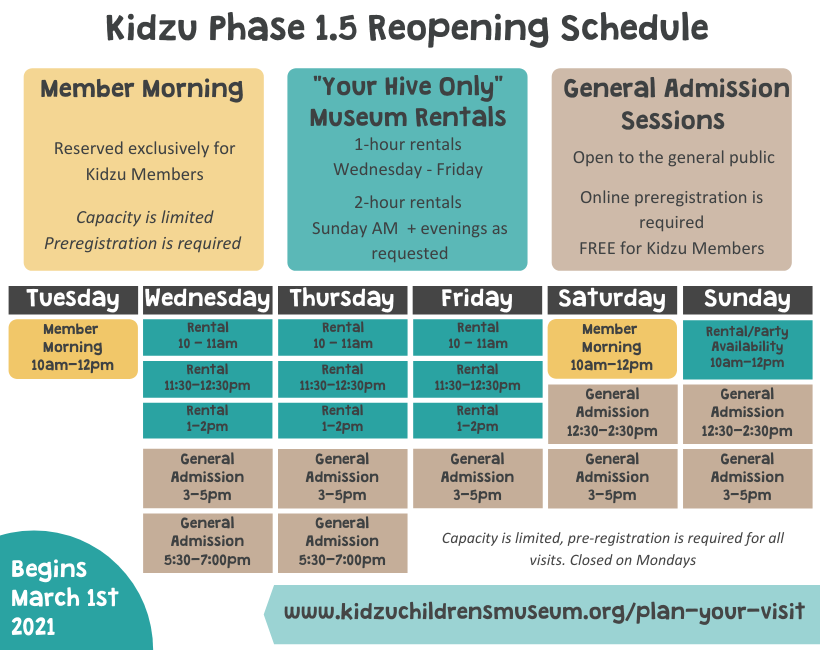 Beginning March 1st, we are thrilled to start offering General Admission sessions that are open to both members and non-members. These sessions will have limited capacity to promote social distancing while at the museum.
General Admission Tickets
All ticket sales are subject to NC state & local sales tax. Tax and discounts are calculated at checkout.
ONLINE ADVANCE REGISTRATION IS REQUIRED 
Both Members and non-members must purchase tickets online before your visit. Each guest in your party (regardless of age) will need a ticket. If you're a Member, your admission is free, but you will still need to reserve tickets in advance.
Be prepared! Scroll down to see information on Visitor Guidelines, Health & Safety Measures, and what to expect during your visit.

Enjoy FREE exclusive use to the exhibits AND Kidzu Makery on Tuesday and Saturday mornings! These 2-hour sessions are for members only, and will be limited to 6 families of up to 5 individuals. Admission to Member Mornings is FREE but pre-registration is still required. You must sign up for a specific entry time to allow for staggered entry, promoting safe social distancing upon check-in. For groups of 5 or more, please contact us directly so that we can do our best to accommodate your group.
Member Mornings are FREE for all Kidzu members.
 Enjoy exclusive use of the museum reserved for your hive only! Rentals consist of one reservation of individuals within the same household or "pod".  
At this time, use of the Makery is not available during museum rentals.
Rentals must be booked online at least 24 hours in advance. Members save 15% on rental prices!
Health and Safety
Your health and safety is our top priority. We've implemented the following practices into our reopening plans so that we can welcome you back safely: 
Enhanced cleaning schedules in accordance with CDC guidelines and standards set forth by the Association of Children's Museums

Frequent sanitizing of common touch areas and exhibit items using EPA approved disinfectants

12 hand sanitizer stations throughout the exhibit areas

Mask requirements for all staff and visitors over the age of 5,

strongly encouraged for ages 2-5

All exhibit props/toys are on a rotation to ensure proper cleaning between each use

"Touched toys" baskets are provided near every exhibit

Museum map with suggested "flow" will be provided upon arrival to ensure proper social distancing when moving throughout the museum

PPE (gloves, masks, sanitizers) purchased for the Kidzu team. Masks/gloves available to visitors upon request

Newly purchased electrostatic sanitizing sprayers for a quick drying, one-pass method to sanitize high-touch items and surfaces.
Exploring our Exhibits – What to Expect:
Contactless check-in! Please have your confirmation email ready to show the team when you arrive. You may display this on your mobile device, or bring a printed copy with you 

Designated baskets are provided for visitors to use when they've finished playing with an exhibit item. Once you're done, toss the item into one of these "Touched Toy Baskets" and the Kidzu team will sanitize prior to placing the items back into the exhibits 

The Book Nook is open! We have provided a basket for books that have been used. Once you're finished reading a book, place it into the designated basket to be sanitized

Most exhibits are limited to one group/household at a time. If an exhibit or area you wish to visit is full, please switch gears and visit elsewhere or wait patiently for capacity to become available.   

Drinking fountains will be temporarily closed off, but our water bottle filling station is always available! Visitors are strongly encouraged to bring their own water bottles.
Visitor Guidelines:
Keep 6 feet apart from people not in your group.

Caregivers are asked to stay within "high-five" distance of children to help with group distancing.

Visitors ages 5 and older are required to wear face coverings indoors.

Face coverings are recommended by health officials for children between the ages of 2 and 5. 

Please use walking feet as you move throughout the museum

Food and drink are not permitted within the carpeted areas

Please keep your shoes on, unless utilizing the "Tot Plot"

All children must be accompanied by an adult 16 or older
As a 501(c)(3) organization, Kidzu is categorized as a nonprofit museum and is reopening in a limited capacity in accordance with orders set by the state of NC regarding covid restrictions/phases. See complete information pertaining to Museums from the NCDHHS website by clicking here. 
We Appreciate our Members!
As a non-profit organization in the midst of the COVID-19 crisis, membership and admissions from members of our community are imperative to Kidzu's ability to stay open and provide families with a safe space to learn and play together. Click here to purchase a membership or renew yours today!
PHASE 1.5 Member Benefits:
The Kidzu team has worked hard to create a modified reopening schedule that ensures exclusive benefits and access for our dedicated members. Keeping health and safety at the forefront of everything we do, we have put our creative hats on and highlighted the following benefits to members:
Member Morning

: FREE Members-only access to Kidzu on Tuesdays & Saturdays from 10am – 12pm

 
FREE access to our new General Admission Sessions


Automatic discount will apply during checkout. Your admission will adjust to $0.00 for the # of tickets that match your membership level.


Save 15% on Museum Rentals
Save 10% on Kidzu 2021 Summer Camps!
Need more information?
We've compiled some Reopening FAQ's to help answer additional questions you may have. If you need to contact a member of the Kidzu team, call us at (919) 933-1455 or send us an email at info@kidzuchildrensmuseum.org